Priority Service Registration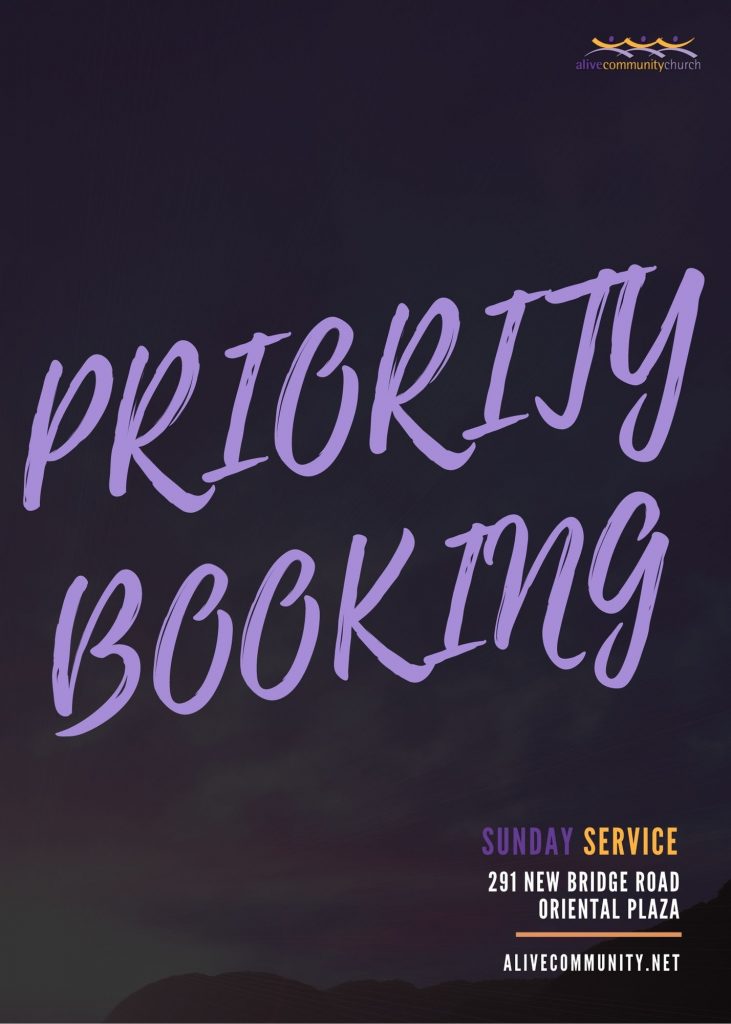 Priority Service Registration
Phase 3 Heightened Alert – On-site Services
Resumption of on-site Sunday Worship services from 4 July 2021.
In line with national posture, to keep our members, guests and church safe, we have enhanced our policies to mitigate all possible risks of infection.
As part of ACC's screening measures, members, guests, or individuals should not go to church premises located at Oriental Plaza:
If you or individuals in the household are unwell with flu-like symptoms.
If you, individuals or the household members are required to undergo mandatory testing due to a COVID-19 cluster.
If you or individuals in the household are placed on Approved Absence, Leave Of Absence, Stay Home Notice, or under a Quarantine Order.
If you belong to any of the above categories, we regret that we will not be able to admit you for on-site services.
Scroll down for the registration link.
First Service Timing: 10.00 am – 11.15 am 
*This registration is for parents priority only..
Please enter the Auditorium via Level 4 and exit via Level 3. Service participants with walking difficulties may enter via Level 3 with his/her caretaker.
ON-SITE CHURCH SERVICES SUSPENDED
UNTIL FURTHER NOTICE.
In light of the new clusters and higher unlinked cases of Covid-19 in the local community and more restrictions imposed by the government, we have decided to suspend on-site Church Services from 16 May 2021 till further notice.
Fellow worshipers are encouraged to tune in on Sunday @ 10am to our Live Stream on YouTube.
For new updates, do save our church hand phone 8188 0542 to your contact list to receive WhatsApp announcements.
Sunday Service Live Stream on Youtube : https://www.youtube.com/user/alivecommunity
Chinese Translation Live Stream on Facebook: https://www.facebook.com/alivecommunitychurch